T160C The last of the original Triumph's.
Updated more pix 27 september -98 1 2
Updated more pix. 10 july -96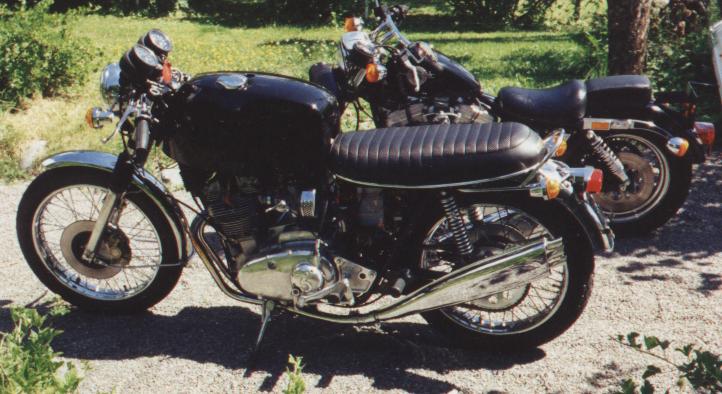 My T160 (and my "old" 883, now sold in favor of new Trident)
This is the history, as I know it, of the last batch of Triumph's, made at Small Heath.
Please, mail me if You know more.

---
NVT (Norton-Villiers-Triumph) collapsed late in 1975. But a deal with Saudi-Arabia engineered by Neale Shilton was struck and a last batch of 450 T160 in police spec was to be build. It was called the Cardinal and is sometimes refered to as T160C. How many that were shipped I don't know. When the Tridents arrived to Saudi they never really got used. The ones they manage to start was soon crashed in the dessert. Some never started and others suffered from mechanical break-downs. I imagine they also had little support from the U.K. since the factory was shut down. The bikes were dumped in the dessert and the Saudi police force soon made a new deal with the Swedish BMW dealer Rindars who also provided education by the Swedish MC-police.
Around 1980 two dealers in Finland (Englishman Terry Fredrickson) and Sweden (Arne Brum) heard rumors about these bikes and after some negotiation they manage to ship 180 bikes that were left back to europe. Over the years the bikes have then been renovated and sold. But in 1993 there were still some bikes more or less untouched up in the north of Sweden were Brums shop is located. He decides to sell the bikes as is and put out a small ad in the major Newspaper DN. A mechanical buissnes run by two brothers Johan and Pelle Mattsson sees the ad and talk Brum into shipping 25 bikes down to Stockholm and sell them there. When the "new" police bikes arrived to Stockholm it was clear that even if the bikes had never run any longer milage they were in a very poor condition. I can still feel the smell, desert sand blended with oil, dirt and old rubber. The one I got hold of had only 31 km on its crashed speedometer were the needle had stopped at 160 km/h wonder what happend at that speed? Now it is the bike You can see on the picture. So far I have seen five of the bikes on the road after major renovation. Looking forward to see more of them this spring.
---
Reference :
British Motor cycles since 1950 by Steve Wilson ISBN1-85260-392-5
Triumph twins and triples by Roy Bacon ISBN 0-85045-700-9
Triumph triples by Andrew Morland and Peter Henshaw ISBN1-85532-428-8
MC-nytt (magazine Sweden) nr 3 1995
---
Page by

Kjell